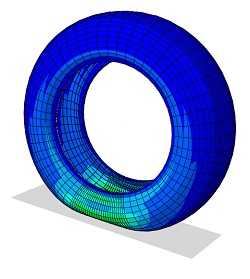 Advanced Finite Element Modeling of Solid Polymers (Part 2)
Two-Day, Online Training Class
This class is an extension of the original Part 1 class, and covers in more depth the theory of different material models and includes hands-on exercises designed to teach how to use the different models to solve real problems.
Details
(*
EDT - Eastern Daylight Time
)
Course Instructor
Dr. Bergstrom is a Principal Engineer at Veryst Engineering, LLC, and consults primarily in the modeling, testing, and failure analysis of mechanical behavior of polymer materials.  He is the author of Mechanics of Solid Polymers: Theory and Computational Modeling, a comprehensive book that explains how solid polymers behave, how they can be experimentally characterized, and how to predict their behavior in different load environments.
Dr. Bergstrom received his Ph.D. from M.I.T. in the area of computational polymer mechanics, and has lectured in the Department of Mechanical Engineering at M.I.T.
Prerequisites
The training class is intended for people with experience running finite element simulations of different polymers (rubbers, thermoplastics, thermosets, biomaterials, etc).  It is recommended, but not necessary, to have taken our introductory polymer modeling classes [Finite Element Modeling of Solid Polymers (Part 1)].

Learning Objectives
By the end of the class you will:
know the strengths and weaknesses of both simple material models (hyperelasticity, linear viscoelasticity, and metal plasticity) and advanced material models (e.g. Bergstrom-Boyce, Three Network Model, Parallel Network Model)
know what experimental tests are necessary and sufficient for calibrating any material model
be able to calibrate quickly any material model using the MCalibration® software
be able to use any of the standard built-in material models, or any of the material models in the PolyUMod® library, to simulate the response of polymer products
Course Outline
Elasticity/hyperelasticity: review of hyperelastic models
Linear viscoelasticity theory: strengths and limitations of the theory, including time-temperature superposition
Metal plasticity theory: strengths and limitations of metal plasticity model for polymer simulations
User-material models in Abaqus and ANSYS, including advanced viscoplastic constitutiuve models incorporating rate and temperature dependence
Advanced finite element simulations of different classes of polymers
Material parameter extraction techniques using MCalibration and the PolyUMod library of user material models.
Previous Attendees Say...
"I gained a tremendous amount of knowledge on topics which would normally be taught in a semester-long course."
"Very valuable for design engineers running FEA on thermoplastics and elastomers."
"Gained a good overall introduction to the mechanics of polymers."
"I would highly recommend this class to my students."
"Will/has helped us revisit legacy material modeling and material testing."
"Great value.  Two days of training saved weeks of engineering work."
Course Materials
Veryst will provide a free one-month license to the MCalibration software and the PolyUMod Library of user-material models to all class registrants who do not have an active software license.  It is not necessary to have Abaqus, ANSYS, COMSOL Multiphysics, LS-DYNA, or MSC.Marc installed for the class.  Training class notes will be provided in .pdf format.  Notes are for personal use and may be printed, but cannot be modified, shared, or redistributed.
Registration
To register for the September 24-25, 2020 Advanced Finite Element Modeling of Solid Polymers (Part 2) web-based course:
Use our on-line registration form (see below) or print out this page and submit by one of the following:
Scan and email to: seminars@veryst.com
Fax to: 781.433.0933
Mail to:
Seminars
Veryst Engineering
47A Kearney Road
Needham, MA 02492
 
The fee for this two-day course is $700.
Deadline for registration is: Thursday, September 17, 2020.
Registration after this date will incur a late registration fee of $400 per student.
Cancellation Policy
Veryst reserves the right to reject registrations and to cancel a training class based on class size.  A full refund will be made if a class is canceled.  If a participant cancels a registration more than 5 days before the class then an 80% refund will be given.  There is no refund for cancellations during the last 5 days before the class.