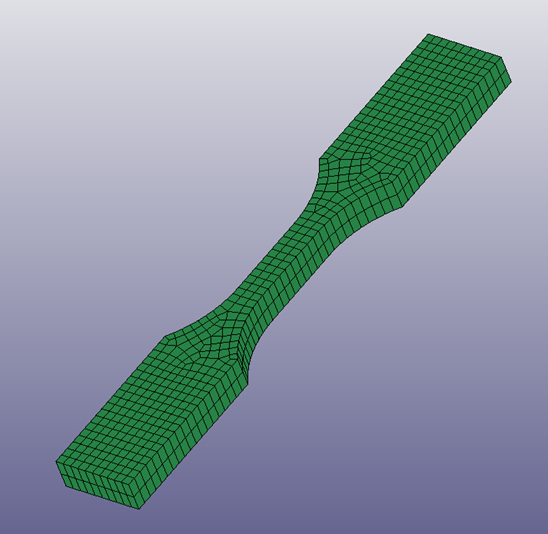 MCalibration®: Inverse Calibration
This half-hour, web-based class offers an overview of using inverse calibrations in MCalibration. This course will review how to set up MCalibration to run an inverse calibration, extract the data, and run the calibration. We will use hands-on exercises with example test data to demonstrate key concepts.
Details
1:00 pm - 1:20 pm
Web-based Course
1:20 pm - 1:30 pm
Question and Answer Session
(*
EDT - Eastern Daylight Time
)
Course Instructor
Dr. Sean Teller is a Senior Engineer at Veryst Engineering.  Dr. Teller has extensive experience in testing and modeling the mechanical behavior of materials.  His expertise includes measuring the response of materials at impact rates, capturing the nonlinear behavior of advanced, engineering materials.  His experience also includes characterizing the nonlinear, finite deformation response of materials, focusing largely on viscoplasticity, biomaterials, and fracture mechanics.
Dr. Teller earned his Ph.D. from Brown University in Solid Mechanics, with research on high frequency, nonlinear viscoelasticity.
Prerequisites
This class is intended for people who have a basic understanding of MCalibration and would like to learn how to use MCalibration for more complex applications.
Learning Objectives
By the end of this class, you will know how to use MCalibration to:
use the 'General External Solver' and 'Abaqus External Solver' load case
set up finite element simulations to run with MCalibration
extract data from Abaqus, ANSYS, and LS-DYNA simulations
Course Materials
PolymerFEM will provide a free 2-week license to the MCalibration software and the PolyUMod® Library of User-Material Models to all class registrants who have not had a software license.  It is not necessary to have Abaqus, ANSYS, COMSOL, LS-DYNA, or MSC.Marc installed for the class.
Registration
The October 27, 2020 MCalibration®: Inverse Calibration web-based course is free, but registration is required and class size is limited.
Use our on-line registration form (see below) or print out this page and submit by one of the following:
Scan and email to: seminars@veryst.com
Fax to: 781.433.0933
Mail to:

Seminars
Veryst Engineering
47A Kearney Road
Needham, MA 02494
 
Deadline for registration is: Friday, October 23, 2020.
Cancellation Policy
Veryst reserves the right to reject registrations and to cancel a webinar based on class size.